Paris & Normandy
Family Trip 2021
Guaranteed Refund Program
This all-inclusive tour of Normandy and Paris covers everything from meals and entrance fees, to individual insurance coverage and full-time support. Your trip details are listed below!
Please contact info@discoveryexpeditions.com with any questions.
In-depth Paris city tour with expert local guides
UNESCO World Heritage Site: Mont St-Michel
Regional specialties & local delicacies
Normandy Beaches & American Cemetery
Program
8 Day Giverny, Rouen, Bayeux, Mont St-Michel, Normandy D-Day Beaches, Paris & Versailles Expedition
---
Dates
July 4 (Sunday) – July 11 (Sunday), 2021
---
Price
Land Only per person price based on occupancy:
$2,420 Student Traveling Solo (Triple/Quad Occupancy)
$2,500 Family Triple
$2,720 Family Double
$3,160 Adult Single
Please contact Discovery Expeditions to add FLIGHTS to your itinerary. Our flight experts can help to secure the best fares available for your home airports. Note that the trip insurance included in your tour price will only cover flights when purchased through our company.
---
Payment Schedule
10% deposit due upon registration
25% payment due November 6, 2020
70% payment due January 8, 2021
75% payment due March 5, 2021
100% payment due April 30, 2020
Contracted prices are based on group size of 20 paying participants. If the final number of paying participants totals less than the published price, the itinerary will be renegotiated or trip costs increased accordingly.
---
Guaranteed Refund Program
When registering for the trip, you have the opportunity to enroll in our Guaranteed Refund Program (GRP) by selecting the additional CFAR coverage at a nominal nonrefundable premium of $45 per traveler. Opting in is the best thing you can do to protect your investment.
The number one question families ask us these days is "How much refund will I receive if needing to cancel, and how can I be guaranteed the maximum refund?" In response, we created the Guaranteed Refund Program (GRP) so that you can remain confident that your investment is protected even if plans change.
For specific details on this program please visit our Guaranteed Refund Program page. If you want to see the estimated nonrefundable amounts based on your trip cost, refer to the Paris Normandy Family Trip 2021 GRP document.
---
How You'll Travel
Premium motor coach transportation between cities
Premium motor coach transportation between cities
Travel like the locals do on the Paris Metro
Roundtrip FLIGHTS to be added onto trip costs when available. Please contact Discovery Expeditions to add roundtrip flights to your itinerary. Our flight experts will help to secure the best fares available for your home airports. Note that the trip insurance included in your tour price will only cover flights when purchased through our company.
Sunday, July 4
Flight schedules TBD 
Dinner and breakfast typically served in flight.
Please contact Discovery Expeditions to add roundtrip flights to your itinerary. Our flight experts can help you secure the best fares available out of your home airports. Note that the trip insurance included in your tour price will only cover flights when purchased through our company.
Monday, July 5
Bienvenue en France! After clearing customs and retrieving luggage, meet your guide and fellow travelers in international arrivals. Travel together by private coach (1hr) to our first stop in Normandy: Giverney, home village of painter Claude Monet.
Morning visit to Monet's Gardens allowing you to stretch and take in the beautiful blooms in both the Clos Normand flower garden as well as the Japanese inspired water garden. Lunch in the charming little town of Vernon.
This afternoon, travel to Rouen (1hr). Capital of the Normandy region, Rouen is home to the impressive Notre-Dame cathedral (an epitome of grand and ornate Gothic architecture at its finest), the Gros-Horloge astronomical clock dating to c. 1389 (one of the oldest working clocks in Europe), and is perhaps most famous for being the site where Joan of Arc was martyred in 1431.
Continue traveling through Normandy (2hrs) and arrive in Bayeux where you will settle into your hotel for a 3-night stay. A delicious French dinner will be followed by ample time to rest and enjoy a good night's sleep.
Tuesday, July 6
After breakfast this morning, travel by private motor coach to Mont St-Michel (2hrs). Perched atop a tidal island, this medieval town and abbey (c. 966) are yours to discover with a private guided tour, followed by lunch and free time to explore.
Return to Bayeux and experience a UNESCO "Memory of the World" — the 11th century Bayeux Tapestry telling the epic adventure of William the Conqueror in 1066. Dinner in Bayeux.
Wednesday, July 7
Walk in the footsteps of the American soldiers who landed in Normandy on the 6th of June 1944. Today is dedicated to the World War II history of the Allied troops D-Day Landings, complete with guided tours & visits to the American Cemetery, Omaha Beach, Pont du Hoc, Sainte Mère Eglise (lunch stop), Utah Beach, Angoville au Plain, and the Germany Cemetery. Your expert local guide & historian will give you a presentation about each site followed by free time to take photos and explore on your own.
Return to Bayeux for dinner, and take some time to refresh, reflect, prepare for an early morning departure.
Thursday, July 8
After an early breakfast, load luggage onto your private coach and travel to Paris (3hrs).
Upon arrival in Paris, your expert local guide will lead you on a sightseeing tour to introduce you to the most famous icons including the Eiffel Tower, Arc de Triomphe, Champs Elysees, the Seine River… experience breathtaking views of landmarks and wonders of this world capital. Lunch stop included en route. This afternoon, check into your Paris hotel and take a brief moment to freshen up and settle in for a 3-night stay.
Dinner and evening in Montmartre, an artistic hilltop village with winding cobblestone streets where you will enjoy amazing city views and have free time for souvenir shopping and to visit the Basilica of Sacre Coeur.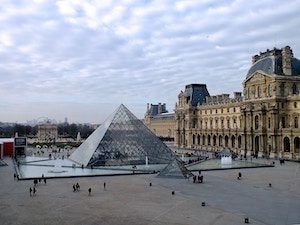 Friday, July 9
Enjoy Paris by foot while discovering the picturesque Le Marais and Latin Quarter neighborhoods. Enjoy lunch in a typical Parisian cafe.
This afternoon, spend a couple of hours browsing the Louvre, one of the world's largest art museums and home to the Mona Lisa, then continue on to the Jardins des Tuileries and Place de la Concorde.
After dinner, stroll along the Champs Elysees and climb to the top of the Arc de Triomphe for fantastic city views.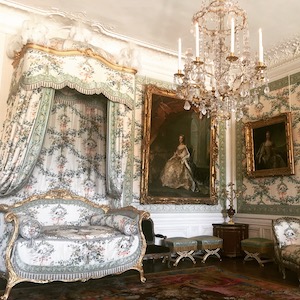 Saturday, July 10
Take the train to Versailles (1hr) and experience the luxurious palace, gardens, and extensive royal grounds including the famous Hall of Mirrors as well as the Queen's Hamlet. Lunch in the palace gardens.
Return to the City of Lights this afternoon for some free time and souvenir shopping. After a farewell dinner, see Paris from a new perspective while cruising along the Seine in one of the famous bateaux mouches, and experience unforgettable views from atop the Eiffel Tower (pending availability).
Sunday, July 11
Morning sightseeing (time permitting), then load luggage and depart. Transfer to airport by private coach to check in for your international return flight home.
Frequently Asked Questions
Professional General Liability and Errors and Omissions Insurance Policy ($10,000,000)
Full-time Professional Discovery Expeditions tour educator
Expert local guides
Premium hotel accommodations (6 nights)
Private motor coach transportation with driver and all transfers between cities
Paris Metro tickets
Custom designed itinerary
Entrance fees to all program sites and day/evening activities
All supplemental guiding services
All Meals (6 Breakfast, 6 Lunch, 6 Dinner)
All taxes & fees
All gratuities (tour leader & driver included)
24 Hour emergency access number
Personalized luggage tags and name badges with lanyards
Complete tour participant accounting including online registration and payment
Travel Protection Plan providing coverage for Cancellation, Interruption, Missed Connection, Travel Delay, Accident & Sickness Medical Expense, Evacuation, and Baggage Loss/Delay
Option to add Cancel For Any Reason (CFAR) coverage to your insurance plan and enroll in our Guaranteed Refund Program – cancel up to 48 hours prior to departure and receive 75% of nonrefundable payments or deposits paid to Academic Expeditions, less any refunds provided
*For full details about the travel protection we offer, visit our Insurance page.
Price does NOT include:
Roundtrip airfare — Please contact Discovery Expeditions to add flights to your itinerary. Our flight experts can help to secure the best fares available for your home airports. Note that the trip insurance included in your tour price will only cover flights when purchased through our company.
Airline baggage fees (1 checked bag per passenger plus 1 carry-on is typically included with international airfare)
View Our Other Programs
United Kingdom – Literary Masterpieces
Enchanted Corners of Spain
Mexico – Monarch Butterfly Country