Sunday, May 30 – flight schedules TBD
Monday, May 31
Meet your Discovery Expedition Tour Leader, Dori Robinson, at the airport. After a quick stretch and snack, we will drive to Stratford-Upon-Avon, where we will check into our hotel and have a quick refresh before stretching our legs and orienting to downtown Stratford-upon-Avon, including visiting the beautiful Holy Trinity Church where Shakespeare was baptized. After a hearty dinner at Old Thatch Tavern, we do an opening activity to prepare ourselves for the weeks ahead!
Tuesday, June 1
Begin the day with a tour of Shakespeare's Birthplace, followed by indulging at the Fourteas, a 1940's themed tearoom, for lunch. Next, we jump straight into Shakespeare's words with a Text in Action workshop at the Shakespeare Centre. Last by not least, we discover the private and public areas of the Royal Shakespeare Theatre through an interactive behind-the-scenes tour, and take in a show that evening.
Wednesday, June 2
We pack our private coach and head to Oxford, home of the Inklings! Known as the inspiration for countless stories, we revel in the places which inspired such Phillip Pullman, C.S. Lewis, J.R.R. Tolkien, Dorothy Sayer, and many more. We begin our literary tour at Christ Church College, most famous for being the genesis for Alice in Wonderland. We take lunch at the Oxford Covered Market, which has showcased local crafts and food since the 1770's. From there we explore the Bodleian Library (the second largest in the UK and the setting for the Hogwarts Library in the films) and the Radcliffe Camera (a rotund library with 600,000 books). We dine that night at the Eagle and the Child pub, a favorite haunt for the Inklings, before heading to our lodging for a good night's rest.
Thursday, June 3
After breakfast, we head towards the University Church of St. Mary the Virgin to view the "Narnia Door," said to have inspired the wardrobe of The Lion, the Witch, and the Wardrobe. After visit Magdalen College's beautiful cloisters, and the carved pillars depicting various animals. No trip to Oxford would be complete without punting, and so we take down the river, just as Peter and Harriet did in Dorothy Sayer's Gaudy Night! After the private coach is loaded and the boxed lunches assembled, we hit the road for London, eating our lunches along the way. After stopping at the hotel and a quick refresher, we take in London! Panoramic city tour includes key sights such as the Houses of Parliament, Trafalgar Square, Buckingham Palace, St. Paul's Cathedral, and Piccadilly Circus.
Friday, June 4
It's museum morning, where we visit both the British Museum and the British Library to take in some of England's most extraordinary literary treasures: from the Rosetta Stone and the Magna Carta, to handwritten Beatles lyrics. After lunch at Covent Garden, we enjoy a tour of Westminster Abbey, an integral part of London's history for over 1000 years and the setting for every coronation since 1066. Poets' Corner in the South Transept serves as a kind of literary hall of fame, holding tombs or memorials of such luminaries as Chaucer, Austen, Dickens, Anne and Emily Brontë, Milton, Keats, Kipling, Tennyson, and Laurence Olivier. The day is complete when we see a West End Production!
Saturday, June 5
Old meets new today as we tour both the Rose Theatre as well as Shakespeare's Globe, a reconstruction of the original Globe Theatre. After lunch and time for exploration at Borough Market, we go to Theatre Deli rehearsal spaces for an exclusive workshop: "This is How We Tell: Storytelling in Diverse Methods and Cultures." With professional playwrights, students will review the many ways stories are told –through words, art, or environment. All of this will be applied as student groups devise a new story or adaptation that is shared at the end of the day!
Sunday, June 6
Depart London by private coach and travel to the most famous prehistoric monument in the world, Stonehenge. Visit the stone circle and Neolithic houses dating back thousands of years and enjoy lunch in the Visitors Center cafe. This afternoon, travel across the Salisbury plains (where allied troops trained for WWII D-Day invasions) and take a guided tour of Salisbury Cathedral, home to the tallest spire in Britain (built c.1310-1330), the world's oldest working mechanical clock (c. 1386), and one of four original copies of the Magna Carta (1215). Free time to visit the town followed by dinner. Travel to Portsmouth this evening, and board the overnight ferry to France (sleeper cabins for 2-4 people with en-suite facilities).
Monday, June 7
Upon arrival in France this morning, enjoy hot cocoa and a croissant before traveling by private coach to Mont St Michel. Perched atop a tidal island, this medieval town and abbey (c. 966) are yours to discover with a private guided tour, followed by lunch and free time to explore. Next travel to Bayeux where you will check into your hotel for a two-night stay. This evening, see a UNESCO "Memory of the World" — the 11th century Bayeux Tapestry telling the epic adventure of William the Conqueror in 1066.
Tuesday, June 8
Today you will visit the Normandy Beaches, site of the WWII D-Day Landings in 1944. Your local expert guide & historian will bring history to life during a full-day tour with visits to Omaha and Utah beaches, the American cemetery, and many sites along the way filled with stories from this period. Return to Bayeux in time for dinner.
Wednesday, June 9
Travel by train from Bayeux to Paris, drop luggage at the hotel, and lunch in a typically Parisian cafe. This afternoon/evening, explore the Basilica of Sacré Coeur and take in amazing city views from Montmartre, an artistic hilltop village with winding cobblestone streets.
Thursday, June 10
Paris literary tour through the Rive Gauche, the intellectual nerve center of Paris and stomping grounds of Lost Generation personalities like Gertrude Stein, Ernest Hemingway, and F. Scott Fitzgerald. After visiting Oscar Wilde's place of death, you'll enjoy the charming cobbled streets of Saint-Germain-des-Près and discover where Benjamin Franklin and Voltaire had fiery philosophical debates with their contemporaries. Continuing on to the Odéon area you'll see the address where Sylvia Beach founded a legendary bookstore and artistic paradise called Shakespeare and Company. This shop no longer exists, but the spirit of its regular customers like Paul Valéry, and André Gide still lingers in this cozy cave of literature. Passing by the world-famous University of La Sorbonne where Sartre taught existentialist philosophy, you'll discover the Latin Quarter, and the favorite places of Hemingway that inspired the movie "Midnight in Paris." Your visit will end around the current Shakespeare and Company location, hailed by many visitors as their favorite bookshop in all of Europe. In this former medieval monastery, English-language books inhabit every nook and cranny. Your guide will recount the extraordinary history of this establishment. Feel free to explore and discover its charming literary atmosphere!
This afternoon/evening, the options are endless from pursuing Paris' Riverside Bouquinistes, enjoying a free fashion show at the Gallery Lafayette, exploring the underground Catacombs, experiencing artistic light shows at the Atelier des Lumieres, time for shopping and souvenirs, or experiencing more of the many world-class sites and museums Paris has to offer.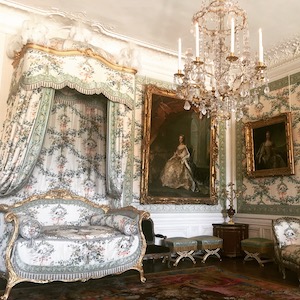 Friday, June 11
Travel to Versailles and discover the luxurious palace, gardens, and extensive royal grounds including the famous Hall of Mirrors as well as the Queen's Hamlet. Return to Paris for dinner.
Enjoy a play or musical with English subtitles — step foot into magnificent Parisian theaters and join the locals for a spectacular French show! State-of-the-art subtitles will allow you to understand everything and your bilingual hosts will give you a VIP welcome with backstage access and an English program printed just for you.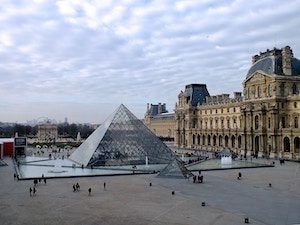 Saturday, June 12
Plenty of time to discover the Louvre at your leisure, then explore the Marais neighborhood, home to the charming Place de Vosges and Victor Hugo's house. Free time for shopping and souvenirs. Enjoy Paris by Night on an evening boat cruise along the Seine with gorgeous views of the Eiffel Tower and city of lights.
Sunday, June 13
Au revoir! Transfer to airport by private coach, check in for international return flight home.