Please note that this is simply a sample itinerary to give you an idea of what we've done before and what we could create for you.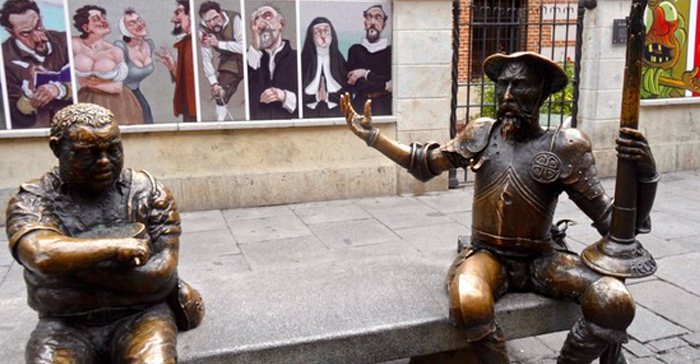 Welcome to the lesser-known historical and cultural hub of Spain! Today we'll make our way north of Madrid to reach the medieval center of Alcalá de Henares. With its 17th century buildings and cobbled stone streets and arcades, it is no wonder the region was declared a UNESCO world heritage site in 1998. Tonight we are staying next to the University of Alcalá, the second oldest university in Spain founded in 1293. Miguel Cervantes, the author of Don Quixote, was born in Alcalá de Henares, and the King of Spain presents the most prestigious award in the Spanish-speaking world, the Cervantes Prize, an award for lifetime achievement in literature, at the University of Alcalá. We will have an afternoon tour of the medieval center, followed by a group orientation with wine and tapas and a delicious welcome dinner at a local restaurant.
This morning we'll travel to the National Park of the Hayedo de Tejera Negra, also known as Los Pueblos de Arquitectura Negra (Villages of Black Architecture). Built in the 1200s, the villages are located in a huge valley within the national park and are constructed entirely from black slate using oak trees for the internal structure. Next we will embark on a one-hour hike (weather permitting) through the beautiful countryside to Majaelrayo and stop for some delicious tapas and drinks at a local establishment. Then continuing by coach we make our way to our typical regional lunch awaiting us on the other side of the mountain in Riaza.
After lunch we head north to Aranda de Duero, one of the most famous areas in Spain known for its red wines. We will visit the Portico of Sta. Maria la Real with an expert local guide and later tour a remarkable centuries-old bodega (winery) that lies 56 steps below ground. Below the entire medieval town of Aranda de Duero there is a network of tunnels that served as bodegas for over a century. Topping off the day's activities, we will travel to a newer family-owned and built bodega and Hotel El Vid to feast on their awesome tapas and excellent wine.
Take a step back in time as we travel further north to the beautiful half-timbered village of Peñaranda de Duero. Prepare for a morning of historical insights as we visit the remarkable 16th century Palace of the Counts of Miranda. After a short coffee and rest break, we'll head up to the 10th century Castle of Peñaranda de Duero for an incredible view overlooking the historic village. Enjoy a guided tour of the monastery and the cloister in the convent before heading to the village of Lerma for a regional lunch of roasted lamb prepared in a typical "asador" original brick and stucco wood-burning oven. Our final stop of the day is to Quintanilla del Agua for an unusual experience! This incredible construction project by artist Felix Yáñez includes a life-sized medieval village made purely out of recycled materials. Retire to your hotel in the evening, or take some free time to wander the enchanted stone-paved village streets.
Our expert local guide will lead us on an inspiring tour this morning, including a visit to La Colegiata de San Cosme y San Damián and later a climb up the Tower of Fernán de Gómez. Take this opportunity to soak up the incredible country views and meet with the friendly locals! Lunch this afternoon is at El Gallin Restaurant, owned and operated by the same family for five generations. Next, we'll set off by coach for Yecla and (weather permitting) a unique experience walking between two stone mountains above a stream, then on to the medieval village of Santo Domingo de Silos that boasts an incredibly well-preserved 1000 year-old Romanesque cloister within the Benedictine monastery. Our official guide will lead us through the cloister and old pharmacy where monks prepared herbal medications centuries ago. Free time to wander the monastery and small village before hearing the famous Benedictine monks sing the Gregorian Chants.
This morning we will head to yet another UNESCO World Heritage Site – the Cathedral of Burgos – for an official guided tour. Known for its size and distinctive architecture, the cathedral is part of the Camino de Santiago, a pilgrimage route that winds throughout northern Spain on its way to Santiago de Compostela in Galicia.
Our next stop is La Rioja, known for its famous wines – the perfect opportunity to sample some of the delicious reds the region is famous for! Enjoy a regional lunch in the picturesque medieval village of Briones, followed by a very special tour of the unique Bodega R. López Heredia in the village of Haro, wine capital of La Rioja. Witness how the family-owned business has been making wine for the last 140 years. We will receive a gift of a bottle of reserve wine, presented in an old-fashioned tin canister, and of course do some wine tasting at the end of the tour with tapas provided.
Along the Camino de Santiago, we will stop at Navarette to meet legendary potter Antonio Naharro, who has been producing pottery for over 60 years. Observe the fascinating process of pottery making before continuing on to Laguardia, a beautiful village that lies in the Alava region (part of Basque country). Witness an ornately carved and painted Church of Santa Maria with our expert local guide, followed by a chance to climb the defense tower!
After our morning of exploration, we'll enjoy a delicious lunch of fresh ingredients at the fabulous and locally renowned Asador of Jose Mari. Sit outside and enjoy stunning views of vineyards stretching below. Next visit the nearby town of San Vicente de Sonsierra, a beautiful village dating back to the Romans with a commanding view of the Ebro River below. Walk the narrow streets and take in the breathtaking views below.
Today is the highlight of our adventure: the festival in Anguiano! Based on a Celtic celebration of harvest, eight young male dancers from the village twirl down the steps of the church on stilts and dance for two kilometers to the Hermitage. As if that wasn't impressive enough, they dance backwards and uphill! A short mass then takes place to thank the Virgin Magdalena for the crops gathered, before they set off again – twirling down the very steep stone paved street. After all of the excitement, we'll fill our empty stomachs with a traditional lunch at the nearby village of Badarán, before heading back to Alcalá de Henares to celebrate with a farewell dinner.
After breakfast at the hotel, your arranged transportation returns you to Barajas Airport. Take the opportunity to soak up the breathtaking mountains and rolling hills covered with seemingly endless vineyards on the scenic drive.