Please note that this is simply a sample itinerary to give you an idea of what we've done before and what we could create for you.
Make your way to San Juan (a mid-day flight arrival to San Juan is recommended), get settled in to your hotel and enjoy some relaxing time on the beach! Puerto Rico is a tropical paradise, and as San Juan is often cited as one of the Caribbean's best city beaches, you're guaranteed to never want to leave! Once you've had your fill of endless white sandy beaches and calm blue waters, join us for a welcome dinner at beautiful Tacos & Tequila restaurant with the local Chapter of the Sierra Club, the local sea turtle conservation groups, Chelonia & 7 Quillas, and our Discovery Expeditions guide.
After breakfast at your hotel, we'll travel to the Fajardo region to hike in cool and mountainous El Yunque Rain Forest, the only tropical rainforest in the U.S. National Forest Service ecosystem. We'll arrive in time for a morning hike led by your Discovery Expeditions tour leader along the Mina Falls Trail ending at a very beautiful waterfall and swimming hole (swimming is optional but recommended—bring water shoes!). For lunch, we will visit a cultural icon of northern Puerto Rico, the long row of food kiosks at Luquillo Beach where you can take your pick of local Puerto Rican cuisine, on own, and spend some time relaxing on Luquillo Beach. We'll return to the hotel mid-afternoon to rest up for a full day and long night tomorrow. *For those interested in a little local nightlife, taxis and company can be organized to La Placita de Santurce for a relaxed dinner at the popular Jose Enrique's.
Buenos días! This morning we'll visit Old San Juan for a day of historic tours of the Castilla San Cristóbal led by the National Park Service and La Fortaleza led by the Government of Puerto Rico. Old San Juan has been called "The Gibraltar of the Caribbean" because Puerto Rico's geographic position at the western edge of the Caribbean made San Juan one of the key frontier outposts of Spain's West Indies dominions. For lunch, we'll eat authentic Puerto Rican food at El Jibarito restaurant, a local favorite. We'll depart Old San Juan in time to arrive back at the hotel in the mid afternoon to allow time to relax, rest up, and eat (on own) before a late night of leatherback patrols on Dorado Beach. Just before sundown, we'll gather in the conference room to hear a brief seminar on sea turtle biology and the survey methodology. Afterward, we'll head for Dorado Beach to begin our nesting patrols, which will last until 1:00am. During peak nesting season, we expect (but cannot guarantee) to see leatherback sea turtles.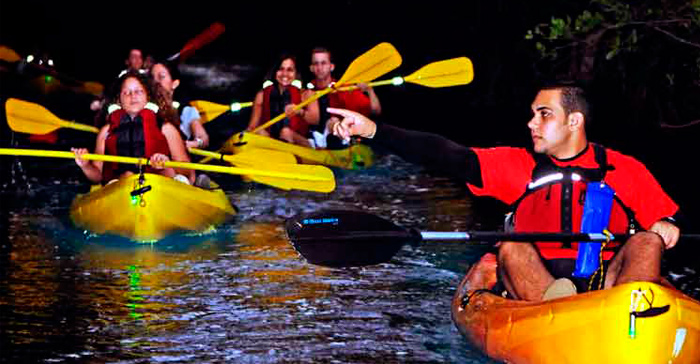 Prepare for yet another day of geological wonders! At noon, we'll travel to Las Cabezas de San Juan Natural Preserve near Fajardo for a guided tour of the coastal habitat and lighthouse. Explore the history and nature of Cabezas de San Juan Nature Reserve by taking a guided trolley tour through dry forests and seagrass beds. Take a boardwalk through mangroves and above Laguna Grande, and get to know the different beach types before visiting the Fajardo Lighthouse. From here we can explore several exhibitions about the organisms and ecosystems found at the reserve, and enjoy the impressive vistas of the northeastern tip of Puerto Rico, including El Yunque rainforest! The day is not quite over yet! Embark on a kayaking excursion led by a Pure Adventure marine biologist on the Bioluminescent Bay. The Bioluminescent Bay (AKA 'BioBay') luminescence is triggered by dinoflagellates, oceanic plankton which is able to generate an emerald green and ultramarine illumination when water is physically disturbed. A truly unique system to explore!
Depart mid-morning to tour the Camuy Caverns – an incredible opportunity to learn about the geology of the region! Camuy River has the third largest water volume in the world in an underground river system and is one of the largest, and most spectacular, systems in the western hemisphere. We'll then venture a very short distance to The Arecibo Observatory, the site of the world's largest single-dish radio telescope. The Observatory is recognized as one of the most important national centers for research in radio astronomy, planetary radar and terrestrial aeronomy. We'll return to the hotel in the mid-late afternoon, leaving you plenty of time to coordinate a final group dinner or to explore the city solo!
We have reached the end of the trip! Depending on flight times and dates, you can enjoy more sites and activities in San Juan, soaking up the incredible atmosphere before you have to depart! If you decide to extend your stay in Puerto Rico, you are free to travel on to your next destination. We truly hope this rare experience has enriched your life and where relevant brought depth to your teaching. ¡Felices viajes!